Actia Telematics Services joins forces with technological operators, consultants and commercial partners to meet the growing needs of the professional mobility market.
Good reasons to become a ATS solutions integrator
Dans un modèle de vente indirect et avec une ambition de croissance, nous aidons nos partenaires à atteindre les objectifs définis ensemble en leur proposant de contribuer à la définition du produit et en leur fournissant un support commercial et opérationnel. Nous mettons également à leur disposition les outils permettant une gestion efficace et autonome de la solution client.
Several dozen integrators and service providers place their trust in us
Actia Telematics Services benefits from a wide network of integrators and service providers in Europe, Africa and the Middle East. Several of them have been working with us since 2001 in a win-win growth philosophy. Actia Telematics Services's success depends directly on the success and motivation of its integrator partners. We implement processes aimed at long-term relationships and common results.
Sell high-value solutions, generate income thanks to recurrent licenses
The world is eager for new, connected solutions. Everyone is concerned about mobility now. Demand in the field of the Internet of Things and telematics solutions is growing steadily. Become an integrator of our solutions and you will very quickly be a leader on your market thanks to the high standard of the services offered, without having to internalize the software development.
Can you bring us your added value? Do you know your market? Are you a network manager?
Do you have experience as an installer or technical skill with networks?
Do you have experience of geolocation and would you like to expand your service range?
Are you planning to migrate your vehicles to a different platform?
We offer you a choice for the future: a new source of income based on high-value services… All in a win-win relationship.
Actia Telematics Services is an Original Design Manufacturer and personalizes its applications to suit you
Our web and mobile applications are available as white label products. On the basis of your commercial strategy and your position, we adapt the graphic charter of the applications so that your customers sense your environment as they browse and through their user experience. The applications will be marketed by you, under your own label, without mentioning our name or the original of the software publisher.
Otherwise, you can distribute solutions of proven renown using the attributed trade names and benefit from the commercial power and reputation of the publisher.
In both cases, the white label or publisher's label applications are functionally identical and are updated monthly to anticipate the needs of the market. The service level we deploy for our network of integrator partners remains unchanged, regardless of the branding strategy chosen.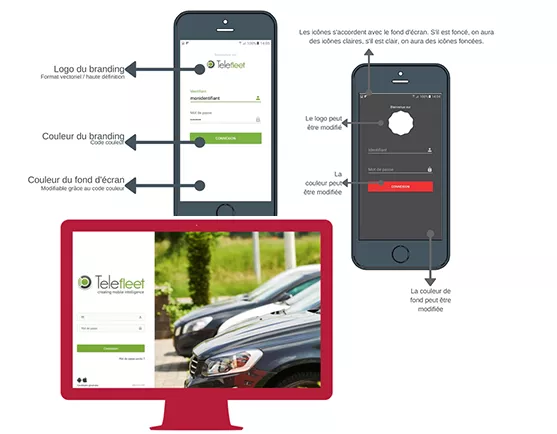 With the Partner Program, we lead our partners towards success
The Extranet
The Partner Extranet is accessible 24/7 and contains all the new application features, release notes, FAQs, instruction manuals and technical documents with high added value to increase the knowledge of integrators and improve the service offered to end customers on a daily basis.
The ATS academy  
An on-line certification module will describe your knowledge, enabling you to provide a high-quality service. Our support staff assist you daily with advanced technical questions and atypical requests.
The training program (e-learning and video) will provide you with all the technical knowledge needed to provide quality services for thousands of users and fleet managers. The games and quizzes will enable you to become a Certified Partner.
Monitoring applications
A monitoring tool for our applications and functionalities is permanently operational. Our teams are notified of statuses in real time, 24/7/365.
Sales supports
In addition to brochures and instruction manuals, an Account Manager will be in charge of your account and will offer you Customer Support and Sales Support.
The advantages of our solutions for integrators
Frequent updates ensuring the competitiveness of the solutions on the market

Hosting on our servers or outsourced

White labeling

Solutions compatible with several dozen boxes, with many business-line applications

Specific integrator access enabling the management of your customers who belong to you

Solutions surveillance 24/7/365 and professional helpdesk, IT infrastructure and cutting-edge monitoring process

Proactive support from the A.T.S. team: Account Manager, Customer Care Manager, Project Manager

Sales assistance, partner program strategy and ongoing training

Provision of marketing support and communication tools

ISO9001 and ISO27001 certification demonstrating our desire to aim for excellence and constant improvement